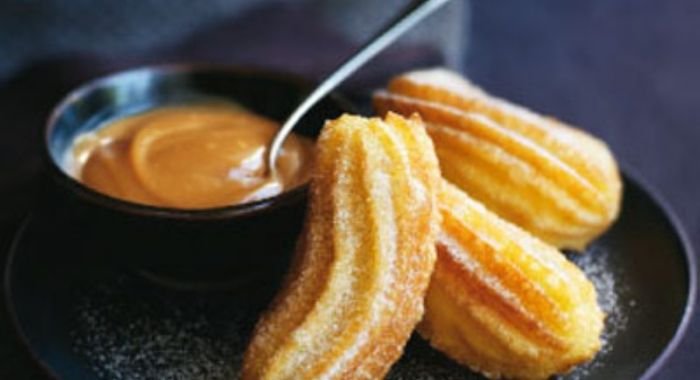 A Perfect Churros Recipe: Churros With Coconut Sauce
I still remember that day when I first tasted the authentic Mexican perfect churros recipe made by my mom. That moment was unforgettable and that churros with coconut sauce tasted completely out of the world. This is the first time I am sharing my childhood with you.
When I started cooking this was the first dessert that I learned from my mom. Warm, Crunchy & coated with sugar dessert, and the coconut sauce with this take it to the next level. My love(My boyfriend) likes to call them Mexican fritters.
I've shared some of my boyfriend's recipes and this recipe is one of his favorites too. How much we (me & my love) both like churros, you can guess that we never refuse to eat churros. 
Also Read this Coconut Recipe: Coconut Funfetti Cupcakes
"How to Make Churros that Taste Heavenly?"
INGREDIENTS
1 10-ounce homemade sweetened condensed milk (If not possible to make it at home then you can also use canned)

1 cup unsweetened coconut milk

2 1/2 cups whole milk

4 tablespoons unsalted butter

2 tablespoon sugar, plus more for coating

1/2 teaspoon vanilla extract

1/4 teaspoon salt

2 1/2 cups all-purpose flour

4 large whole eggs

Vegetable oil, for frying churros
DIRECTIONS
Coconut Sauce
Over medium heat cook the condensed milk slowly in a saucepan.

Stir, Stir, Stir until the condensed milk looks like light caramel color, and start pulling it away from the side of the pan.

Now add coconut milk slowly and whisk for 4-5 minutes until it becomes smooth. 

It's done set aside and if you want to use this sauce later then covered it and put in the refrigerator. Preheat before using this.
Churros
On medium-high heat, pan put Milk, Butter, sugar, vanilla, and salt to a boil, Stir it until sugar and butter melt.

Low the heat to medium-low, Now add flour and mix with strength until it looks like a dough ball. Put it in a large bowl for 5 minutes to cool down Beat in the eggs one by one in a mixer and transfer the batter into the piping bag fitted with ½ inch star tip.

Fill a flat plate with some sugar to coat churros. Put a Wide Saucepan on the heat and fill it with 3-inch vegetable oil and heat, Check it with a deep-fryer thermometer that its temperature is 350-degree Fahrenheit or not. When it reaches 350 degrees Fahrenheit then starts making a batch of 5 churros that 4 inches long.

When one side becomes golden brown turn it other side and within 3 minutes your 1 batch will complete  Put a paper towel on the plate to soak extra oil and then put hot churros on the sugar bowl to cover. Repeat the same process until it's done.

Serve it warm with coconut sauce.
You can use churros with chocolate sauce too but I like this one more because it's my mom's recipe and very close to my heart. I always enjoy this recipe at my baking station with my dear ones.
Have you ever tried this perfect churros recipe before? Do let me know your views in the comment.