UnwedHouseWifeBlog Specials: 5 Delicious Holiday Appetizer Recipes
Holidays are just around the corner, and we're all prepping for fun holiday gatherings. Delicious food tends to be the main ingredient when it comes to recipes for throwing successful holiday parties, aside from, of course, all the beautiful ornaments, centerpieces, and holiday decor. And what better way to get your holiday party started than to whip up some tasty and delish Holiday appetizer to serve up to your guests?
We all know how this time of the year can be quite hectic, so your safe bet would be to go for something that doesn't take too much time, money, or skill to make yet still looks and tastes amazing. Here are some holiday appetizers that are really easy to make yet look so gourmet they will have your guests asking for seconds (and probably asking for the recipes as well).
Crostini with almond, bacon, and cheese
This almond-bacon cheese crostini recipe is a great choice if you want a savory appetizer that's eaten in a bite. You'll need to get a French baguette, shredded cheese, mayonnaise, toasted and sliced almonds, some bacon strips (previously cooked and crumbled) and one chopped onion plus some salt.
Slice the baguette and bake the slices until they're slightly browned. While they're baking, put the rest of the ingredients into a bowl and mix them together – this is the spread. Take the mixture and spread it evenly over slices, and then bake until the cheese melts.
Tip: Baguette slices made at an angle will look more appealing than straight cuts.
Spicy apricots dipped in dark chocolate
For this delicious dessert recipe, you'll need only three ingredients – dried apricots cut in halves, some bittersweet, dark chocolate (chopped), and of course, some chili pepper to add spice to it. Simply melt the chocolate in the microwave, dip the dry apricot halves in chocolate, sprinkle with spice, and then let sit for about an hour or so until the chocolate hardens.
This simple dessert can look even more impressive when served on some nice platters or mismatched spoons. If you need some inspiration, you can always take some ideas from professional catering companies and look at the way they present and arrange their trays of hand-held goodness.
Crunchy banana slices
This recipe is perfect for every day, but these crunchy banana slices also make for a healthy alternative to sugary holiday desserts. You'll need some bananas, crushed cornflakes, coconut flakes, peanut butter, and some fat-free yogurt with vanilla flavor.
Start by mixing coconut flakes with cornflakes in a skillet and cook until the flakes start to brown. When they're done, get a bowl and combine yogurt and peanut butter sprinkled with a bit of the flaky mixture. Cut the banana into little rounds and cover it with the peanut butter and yogurt mixture. Finally, sprinkle with the cornflakes and coconut mixture, and voila – you've got a crunchy yet healthy addition to your holiday party buffet.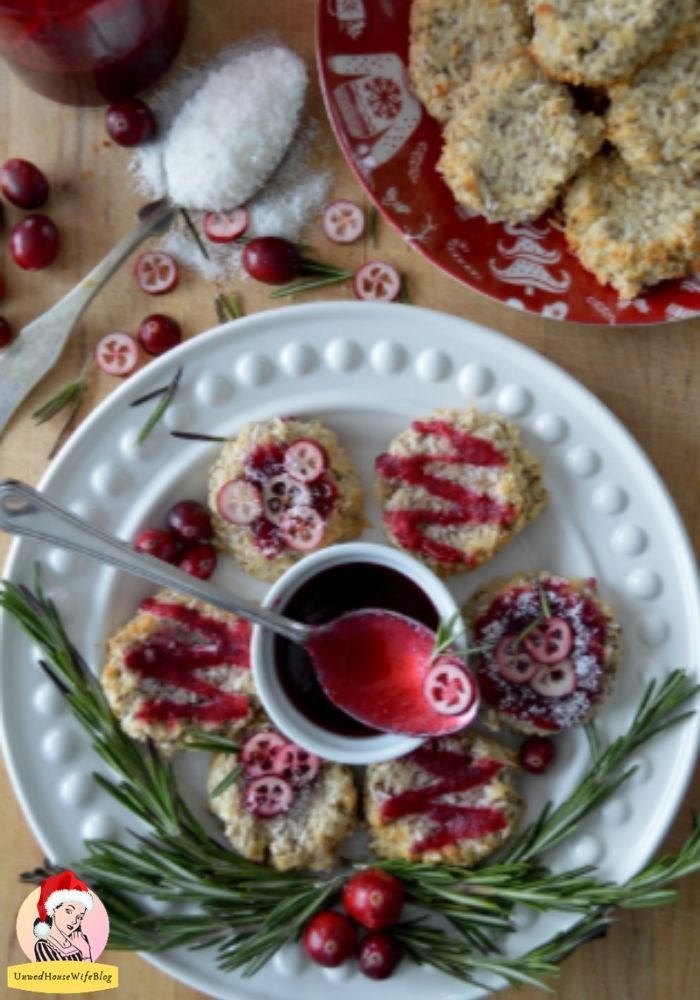 Nutty vanilla & cranberry cereal drops
Another super easy winter cookie recipe that doesn't even require baking. For this sweet appetizer, you'll need to get cereals with vanilla and cranberry, some marshmallows, cranberries (dried), chopped macadamia (or mixed) nuts, and some candy coating with vanilla flavor.
Mix cereal with marshmallows, cranberries, and nuts. Then, melt the vanilla-flavored candy coating and use it to coat the mixture. Use a rounded teaspoon to form the cookies and drop them onto cookie sheets. Let the cookies set (about an hour), and if there are any leftovers, they can be stored for up to three days provided they're kept in an airtight container.
Green olives stuffed with Gorgonzola & thyme
This last recipe on our list is great because it can be prepared up to one week in advance, leaving you enough time to tackle the other holiday dishes you're planning on serving. It requires five ingredients – soft cream cheese, some black pepper, fresh thyme (snipped), crumbled Gorgonzola cheese (you can also use blue cheese), and of course, green olives.
Start by mixing cream cheese and Gorgonzola cheese using a mixer until it has a creamy consistency. Add some pepper and thyme. Put this cheese mixture into a pastry bag and then use it to fill the olives with the mixture. Easy and delicious!
'Tis the season of holiday fun and memorable get-togethers with friends and family, and a good host knows that his or her guests want something tasty to nibble on while they're waiting for the main course. These five recipes are easy to follow, don't require any gourmet cooking skills, yet they're sure to make your guests think that you've been taking culinary classes. Put your apron on, select the appetizers you like the most and get ready to impress your guests this holiday season! Bon Appétit!