Chocolate Valentine Cupcakes | Make Delicious Chocolate Cupcakes at Home
Tell someone "I love you" this Valentine's Day with these dynamite Chocolate Valentine Cupcakes. I took a bite of one to sample, and promptly ate the entire thing…and another whole one an hour later. They are really delicious! My boyfriend loved them, too. Store-bought cupcakes will never taste the same after you've tried these. The chocolate cake is moist and dense and the buttercream icing is creamy and of professional quality. What can I say about the cake and icing together? Well, they were made for each other; hence, Valentine's cupcakes.
You don't have to be in a relationship to make these cupcakes for Valentine's Day. Bring them up to work or give them away to friends. Or heck, if you're single and aren't particularly fond of Valentine's Day, make these entirely for yourself! You'll have a newfound appreciation for the holiday.
I have to use this cupcake recipe for other holidays and occasions. They are too good to only have once a year!
Also read this: Blue Cornbread Muffins Recipe
Both the cake and icing recipes are adapted from Allrecipes. I used Valentine themed baking liners and decorated each cupcake with pink heart toppings and powdery red sprinkles. The total cost for the liners and sprinkles was less than $7. You don't have to go anywhere fancy- most grocery stores have these items.
Happy Valentine's Day, everyone!
Chocolate Valentine Cupcakes with Buttercream Icing
Ingredients of Chocolate Cupcakes
Chocolate Cake
1 cup of sugar
Valentine's Day themed baking liners
1 & 1/8 cups all-purpose flour
1 tsp. vanilla extract
1/2 cup unsweetened cocoa powder
1 tsp. baking soda
1 tsp. salt
1/2 cup butter, softened
1 egg
1 cup, strong brewed coffee (warm)
Buttercream Icing
3/4 cup (1 & 1/2 sticks) unsalted butter, room temperature
3 cups confectioners' sugar, sifted
2 & 1/4 tsp. vanilla extract
1/4 cup whole milk
pink/red sprinkles
Directions of Chocolate Cupcakes
Chocolate Cake
Preheat oven to 350°. Line muffin pans with baking liners. Yields 16 cupcakes.
In a medium bowl, sift together flour, cocoa, baking soda, and salt. Set aside.
In a large bowl, cream butter and sugar until light and fluffy. Beat in egg and vanilla.

Add flour mixture, alternating with coffee. Beat until just incorporated.

Scoop batter into baking pan. Cook in preheated oven for 15 to 20 minutes or until a toothpick inserted in the center of the cupcake comes out clean.
Let cupcakes fully cool before removing them from the pan.
Buttercream Icing
Cream room temperature butter with a hand mixer or paddle attachment of stand mixer until smooth and fluffy. Gradually beat in confectioners' sugar. Beat in vanilla extract.

Pour in most of the milk and beat for 3 to 4 minutes. Add remaining milk and beat for 3 minutes or until smooth.
Once cupcakes are fully cooled, ice using a piping bag.
Decorate each cupcake with sprinkles.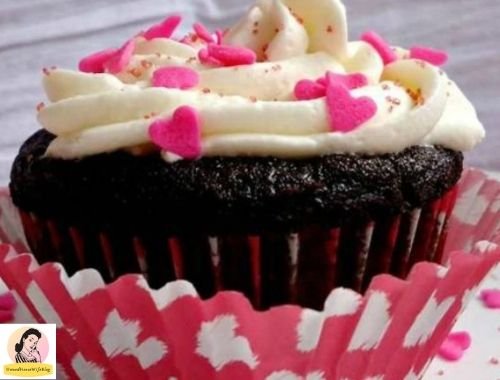 Now you can enjoy this lovely Chocolate Cupcake with your partner. Tell me how much you like this recipe. Would you give it a try on Valentine's Day? Comment your opinion.