Chocolate Macaroon Cake Is the Ultimate Passover Dessert
Preparing Passover dessert feels like a challenge because you have to prepare delicious mouth-water desserts while following the kosher rules. Have you ever tasted flourless chocolate which is so delicious and so rich and perfect? In simple words, you have to prepare a Passover dessert with no compromise in taste, appearance, and richness in texture. The Chocolate cake is a perfect addition to the Passover dessert repertoire. Thus chocolate Macaroon cake is free from gluten and dairy items. This ultimate Passover dessert is perfect for those who are suffering from diabetes. This cake is so delicious and yummy that you would make it during non-Passover occasions. This cake is perfect because you do not need to purchase special kosher ingredients for this Passover dessert.  The Passover program organizers arrange luxurious hotels where Chocolate Macaroon cakes are served to the Jewish guests.
Chocolate Coconut Macaroon Cake
When I first prepared this chocolate macaroon cake then I was a bit suspicious because of its simple preparation recipe. I have prepared so many cakes and I have good experience and knowledge about it. As per the instructions given by my friends, I scraped the batter into the pan and made the top smooth. But, the scraping was very little and there was no appropriate smoothing. In addition to this, the batter was quite thin. Thus, I was a little nervous because I had no idea what it was going to be. But, I was very delighted when I saw the perfect Macaroon cake coming out of the oven after 45 minutes. The exterior look may not be so bright, but when you cut this cake then you will observe that it is a rich and fudgy cake.
Chocolate Coconut Macaroon Cake Ingredients
Here, we have prepared a list of ingredients that can help you to prepare 8 to 10 servings:
For Cake 
1 cup or 200g of virgin coconut oil
¼ cup or 20g of unsweetened cocoa powder and also a little bit more for dusting pan
1 cup or 140g) toasted almonds with their outer skin
8 ounces or 225g top-notch quality semisweet or bittersweet chocolate. You should chop it or create wafers.
1 teaspoon full of kosher salt
½ cup or 55g of shredded coconut (unsweetened)
6 large size eggs
½ cup or 100g of granulated sugar
½ cup or 107g of light brown sugar which is properly packed
2 teaspoons full of vanilla extract
For the topping:
¼ cup or 15g of coconut flakes (unsweetened)
2 full tablespoons of sliced almonds
Just 2 full teaspoons of granulated sugar
2 full teaspoons of pure maple syrup. Also, you can use light corn syrup in place of maple syrup.
For the Ganache:
4 ounces or 115g of chocolate with a little bit of sweet. It should be chopped or in wafer form.
1 full tablespoon of pure maple syrup or light corn syrup
A little bit of kosher salt
½ cup of coconut milk (unsweetened). You should shake it well before use.
Start Cake Preparation 
You should preheat your oven at 325°F and also place a rack in the center of the oven. Now, take a cake pan which should be 3"deep and 9" rounds, and start greasing it. Get the parchment paper and place it inside the pan and start greasing it. You should also dust the bottom and walls of the pan with cocoa powder. Remove the excess cocoa powder by tapping it.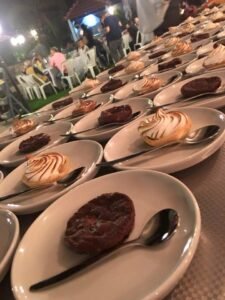 You should take the heatproof bowl and pour the chopped chocolate and coconut oil inside it. Place this bowl inside the saucepan which is filled with 1/3 parts of simmering water. After some time, you should remove the bowl from the pan and this mixture cools down. Leave it for some time and add almonds, cocoa powder, and salt to the processor to finely chop them. Once they are finely chopped, consider adding shredded coconut and run the processor one more time so that everything mixes-up properly.
You should take a whip and bowl to beat the eggs at medium speed for at least 20 seconds. After that, you should take granulated brown sugar and vanilla extracts. Start whipping again until this mixture converts into thick and pale solutions.
No, switch to the paddle attachment and keep mixing at low speed and also add the chocolate and oil mixture stream. Take out the bowl and start adding almond cocoa mixture by using the rubber spatula. You should properly scrape the sides and bottom of the bowl. After that, you should pour the mixture into the pan. You should bake the batter until the tester comes clean after inserting it inside the cake. You have to bake it for 35 to 50 minutes.
After that, you should transfer the baking pan to the cooling rack and leave it for 20 minutes. You can bake the cake a day before you are planning to serve it. You should store it in a tightly covered box at room temperature.
Preparation of Topping & Ganache:
Again preheat the oven at 350°F and put one rack in the center of the oven. Place the parchment paper into the cooking pan. Take the almonds, sugar, maple syrup, and coconut flakes in one bowl and toss them. You should spread this mixture on the prepared pan evenly. You should toast it for 4 to 6 minutes. No, take out the pan and place it over the wire cooling rack. Once it cools down properly, you should break it down into small clusters.
Now, mix the maple syrup, chopped chocolate, and salt in a medium bowl. You should pour the mixture into a small saucepan and put it on the low heat flame. You should let it sit on the low flame until chocolate becomes melty. Whisk it until the smooth ganache is obtained. Let it cool down for a few minutes.
Assemble the cake
You should pour the ganache at the cake's center. Use a spatula and spread the ganache around the cake. Finally, sprinkle almonds-coconut clusters over the cake.
Author Bio:
Rihanna holds a degree in health and fitness, has worked as a health instructor for over a decade at some very prominent health-related organization, and basically a writer by heart