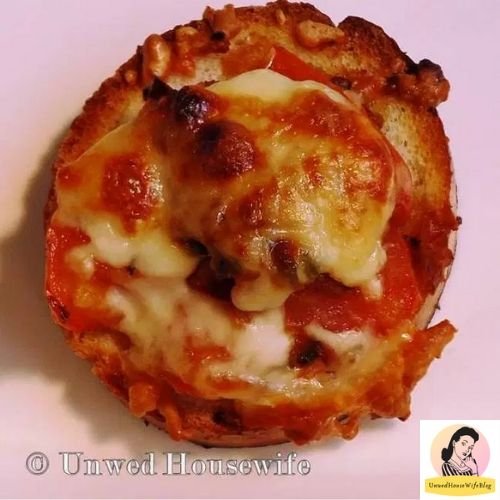 Easy Bruschetta Recipe (Best Bruschetta Recipe Ever)
One of my favorite weekend appetizers is bruschetta. It's easy to make, tasty, and goes great with a glass of red wine or Kansas City Ice Water! I call this dish "Easy Bruschetta Recipe" because well, that's what they are. They're something you grab, as opposed to sitting down and eating formally.
This recipe is good to have in your culinary repertoire, especially if you entertain often. Bruschetta makes a great appetizer or light snack when the company is over because it's easy to make, yet looks impressive and fancy. Also, bruschetta takes less than 5 minutes to bake, meaning you don't have to worry about keeping it warm. Just throw it in the oven whenever guests arrive. The aroma of cheese, garlic, and basil will fill your kitchen, and the bruschetta will be ready to eat (and likely gone) in less than ten minutes.
I adapted this recipe from Allrecipes. The original recipe can be found here: Double Tomato Bruschetta Recipe. My version has more garlic, less balsamic vinegar, and the baguette is less crispy. Enjoy!
Ingredients
french baguette halved
3 Roma tomatoes, chopped
1/4 cup sun-dried tomatoes, in oil
2 cloves garlic, minced
2 tbsp. olive oil
1 tsp. balsamic vinegar
1 tbsp. & 1 tsp. fresh basil, stemless and chopped
1/8 tsp. salt
1/8 tsp. pepper
1 cup mozzarella, shredded
Directions
In a medium bowl, combine Roma tomatoes, sun-dried tomatoes, garlic, olive oil, vinegar, basil, salt, and pepper.

Allow the mixture to sit for 15 minutes.* Preheat the oven to the broiler setting.

Cut the baguette in half. Cut half of the baguette into 3/4-inch slices. On a baking sheet, arrange the baguette slices in a single layer. With washed, clean hands, divide the tomato mixture evenly over the baguette slices. Top slices with mozzarella cheese.

Broil for 3 to 5 minutes, or until cheese has melted. Check often to avoid over-cooking or burning the bruschetta.
*If more convenient, cover and refrigerate mixture to broil at a later time.