Breakfast hacks and recipes to make your mornings more bearable
We often hear from our old folks that breakfast is the most essential meal of the day. We all grew up not wanting to miss out on this important part of our daily lives. Whether it's just a plain cup of coffee or a tower of pancakes, the 1st meal of the day will help our mind and body to focus on our errands all throughout the day. Do you want to learn Breakfast hacks and recipes? Here we describe their ingredients, instructions, and also recipes.
To begin with, themealeryapp.com is sharing with you some of the custom-made meal plans for your breakfast to make your mornings not just bearable but also help you acquire the nutrients that your body needs to keep you going all day. These recipes are good for up to 2 servings. You can just add more on the ingredients if you are planning to stock up for the next day.
Strawberry and Blueberry breakfast bowl
Strawberries and Blueberries are known for their high levels of antioxidants and are good sources of manganese and potassium. They are also an excellent source of Vitamin C. Daily intake of these berries can help improve your skin, lower blood cholesterol, and reduce heart disease.
Dates are an excellent source of sweeteners. It contains calcium, iron, fiber, magnesium, potassium, and zinc," says Diksha Menghani, Food Guest Post contributor at F and B Recipes
Ingredients:
5 cup Plain Greek Yogurt
5 cup Blueberries
Five cup Strawberries (sliced)
25 cup Dates (dried)
5 cup Rolled Oats
5 cup Granola
Instructions:
Place the yogurt in a bowl.
Add the granola and rolled oats together.
Top with dates, strawberries, and blueberries.
Serve and enjoy!
 Triple Berry Oatmeal Breakfast Bowl
Another berry meal for breakfast is associated with oatmeal. Oats are high in soluble fiber and are also good for weight loss. It is a natural laxative, reduces risks of type 2 diabetes, controls blood pressure, and is also known to reduce asthma risks in children.
Ingredients:
1 cup Old Fashioned Oats
1 cup Low Fat Milk
25 Teaspoon Cinnamon
25 Teaspoon Vanilla Extract
1 Tablespoon Maple Syrup
5 cup Vanilla Yogurt
5 cup Strawberries
Five cup Raspberries
5 Cup Mulberries
Instructions:
In a small pot, stir oats, milk, cinnamon, vanilla extract, maple syrup, and salt over medium-high heat.
Cook for 3-5 more minutes or until oats is tender to your preference, stirring occasionally.
Pour oatmeal in a bowl and top with vanilla yogurt, and the three berries desired. Serve warm or at room temperature.
You can also read TIPS FOR MAKING THE PERFECT BURGER
Breakfast Sandwich with poached eggs and sprouts
Eggs contain essential amino acids. One piece of an egg has 6 grams of high-quality protein and 5 grams of good fat. It promotes healthy hair and nail growth. It boosts brainpower and lowers the risks of cancer.
While sprouts can strengthen the immune system, it is also believed that it helps you lose weight and can prevent anemia.
Ingredients:
1 Tablespoon Vinegar
4 Pieces Eggs
Salt, To Taste
Ground Black Pepper, To Taste
25 cup Mayonnaise
2 Teaspoons Prepared Wasabi Paste
1 Teaspoon Packed Brown Sugar
One Piece Avocado, Halved, Seeded, Peeled, And Sliced
1 Cup Sunflower Seed Sprouts/alfalfa Sprouts Or Packaged Baby Salad Greens
8 Slices Hearty Whole Grain Bread, Toasted
Chocolate Syrup (drizzle)
Sesame Seeds (garnish)
Instructions:
For poached eggs, fill a large skillet with water to a depth of 1/2 inch. Add 1 tablespoon vinegar. Bring to boiling; reduce heat to simmering. Break an egg into a cup and slip the egg into the simmering water. Repeat with the remaining eggs, allowing each egg an equal amount of space in the water-vinegar mixture. Sprinkle eggs with salt and pepper. Cover and cook for 3 to 4 minutes or until whites are completely set and yolks begin to thicken but are not hard. Using the edge of a metal spatula, separate the eggs. Use a slotted spoon to remove the eggs; set eggs aside. Discard liquid and dry skillet; set skillet aside.
Meanwhile, in a small bowl stir together mayonnaise, wasabi paste, and brown sugar. Set aside.
To assemble sandwiches, layer avocado, poached eggs, and sprouts on four of the toasted bread slices. Spread about 1 tablespoon of the mayonnaise mixture on one side of each of the remaining four bread slices; add to sandwiches, mayonnaise sides down. Drizzle with a little bit of chocolate syrup and garnish some sesame seeds on top.
Bacon and Egg Breakfast Sandwich
Bacon and egg are a perfect breakfast combination on every household table. Eating bacon in the morning can boost your mood. If you are on a low carb diet, bacon is one of the healthy sources of good fats and has high-quality protein.
Ingredients:
4 Slices Bacon, Each Slice Cut In Half And Cooked To Your Liking
4 Pieces Breakfast Bun
1 Teaspoon Olive Oil
2 Tablespoons Butter
4 Pieces Eggs
2 Stems Spring Onions (chopped)
Salt
 Instructions:
Melt butter in a large skillet over medium-high heat until melted. Add eggs to the skillet and cook well. Add chopped spring onions. Gently flip over and cook for another 30 seconds. Remove to a plate so they are ready for you to assemble the sandwiches.
Fry your bacon for a few minutes until you achieve your desired crispiness.
Assemble sandwiches as follows: Bun bottom, egg, bacon, and muffin top.
Take a big bite as soon as possible!
Bacon Egg and Cheese Biscuit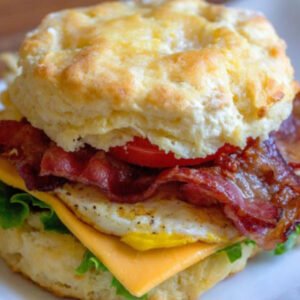 Who said they're not in love with cheese?! Most people couldn't complete their sandwich meals if it doesn't include cheese. Aside from its flavorful taste, cheese is actually good for our health. For low-carb dieters, cheddar cheese, parmesan, and heavy cream cheese are the best healthy options. Eating 1 to 2 ounces of cheese per day may lower your risk of developing type 2 diabetes. Cheese is an excellent source of protein and calcium.
Consider this next recipe if you're thinking of a low-carb diet plan for weight loss.
Ingredients:
4 pcs breakfast cookies
4 whole eggs
8 slices bacon
4 slices cheese
4 lettuce leaves
Instructions:
Fry eggs first then followed by your bacon.
Prepare sandwiches by slicing biscuits in half and layering lettuce, cheese, eggs, and bacon inside.
Have a big bite and Enjoy!
With themealeryapp.com the trouble in organizing your breakfast early in the morning is now made easy thus helping you out to budget your meals for the entire week.
It has a wide variety of healthy meal recipes that are carefully prepared and shared for people who are a fan of healthy meal planning.
Those who are struggling to maintain a healthy lifestyle while meal planning can save a lot of time and money by using it. It has custom-made meal plans ideal for people who are health enthusiasts.
So if you are planning to get a "personal coach" to help you monitor and ensure accuracy on your food intake, it is highly recommended as it is specially designed as a personalized diet generator.
Author Bio: Alex is the director and founder of The Mealery App – a meal planning app that allows users to order, shop, and plan their weekly grocery shopping using an easy and intuitive platform. He loves fitness, healthy living, and making valuable contributions to people's lives by providing solutions that fit within their lifestyles. Follow us on Instagram at – @themealerya